What Causes Tires to Wear Unevenly?

While there are tons of cutting-edge features on the market today, one of the most important safety tools in your vehicle is your tire tread. However, everything from road conditions to maintenance and driving habits can have a huge effect on your tire tread wear – so just what causes tires to wear unevenly and how can I prevent it? Take a look at our tire guide to find out how you can improve your car's performance with just a few tips.
Why Does Tire Tread Wear Matter?
Whether driving through snowy roads in Gardendale or off-road trails in Hoover, your tire tread provides the grip that you need to stay firmly planted on the ground. A good set of tires will give you great control during any road condition or forecast, but when you have more serious tire tread wear, you'll start to notice slipping and sliding. Not only is that a problem in snowy and rainy weather, but even dry roads are more dangerous when you lack the proper traction.
What About Tire Pressure?
Tire tread wear can also be influenced by your air pressure. When your tires are properly inflated, you can accelerate and brake with ease. But when you have either underinflated or overinflated tires, your car needs to work harder to produce the same results. This leads to greater wear and tear on your tires, which can also create an unsteady or bumpy ride. Learn more about your Tire Pressure Monitoring System to prevent underinflation.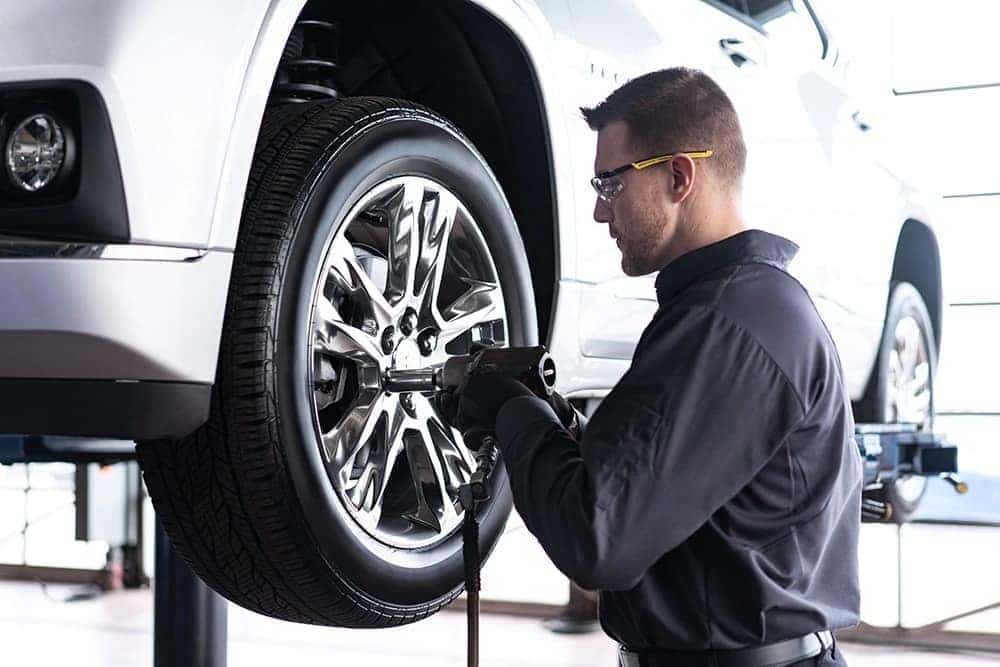 What About Wheel Alignment?
Your car'sdrivetrain system also influences tire tread wear tremendously:
Misalignment: When you run into potholes or curbs, your wheels can fall out of alignment. This places greater stress on your suspension and steering.
Rotation: Front-wheel drive vehicles put more strain on the front wheels, and without proper rotation, you could end up with extremely uneven wear.
Maintenance: Even if your car runs like a dream though Bessemer, proper wheel maintenance will ensure that you don't end up with a small problem that turns into a huge headache!
Schedule Your Service at Edwards Chevrolet Downtown
Now that you know what causes tires to wear unevenly, why not swing by Edwards Chevrolet Downtown for an inspection or maintenance service? Schedule your service in Birmingham to make sure that your set is in good shape, and check out our service tips and tricks for more helpful information like how often to change spark plugs and more. Contact our service department with any questions, and don't forget to view our current Chevy service coupons!
More from Edwards Chevrolet Downtown