Off-Roading Trails in Birmingham

Chevy pickup trucks like the Silverado 1500, 2500HD, 3500HD, and the smaller Colorado are known for their off-road prowess, so if you haven't already, you're probably eager to put your truck's capabilities to the test with a rugged off-road adventure. If you need help planning your trip, Edwards Chevrolet Co., Inc. is here to assist! Join us as we explore some of the best off-roading trails in Birmingham, then grab your gear and get ready to hit the roads less traveled.
The Ridge Outdoor Resort
In their search for off-road trails in Birmingham, AL, many are led to The Ridge Outdoor Resort. Located a short 30-minute drive from Birmingham, the Ridge offers over 30 miles of trails to traverse, open to lifted trucks, ATVs, dirtbikes, and more. All trails are conveniently labeled as beginner, intermediate, or advanced, ensuring you don't accidentally head to an area you're not yet ready to take on. While you're crawling over rocks and kicking up mud, you'll enjoy breathtaking views of lush forests, expansive fields, and dramatic rock formations.
Gray Rock ORV Park
Hop on I-65 and head 20 minutes north to get to Gray Rock ORV Park in Gardendale, AL. Designed for avid off-road adventurers with fully tricked out trucks, Gray Rock is known for rocky terrain and steep hills that are a thrill to crawl, but not quite designed for beginners. Prefer to be a spectator? Gray Rock hosts fun competitions from time to time – if you're up to it, maybe you'd even like to enter yourself!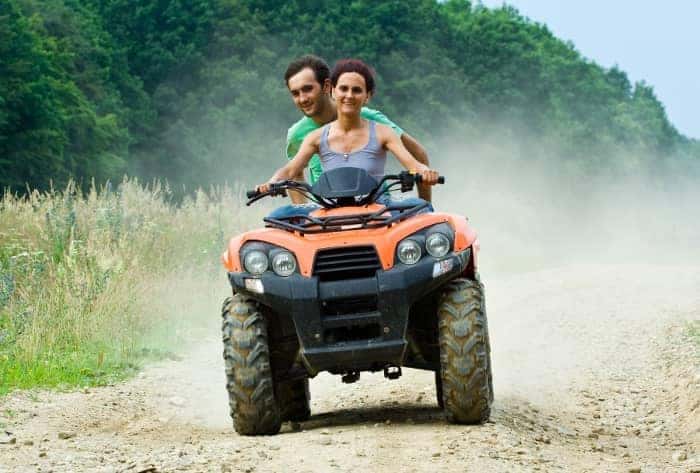 Stony Lonesome OHV Park
Stony Lonesome OHV Park requires a bit farther of a drive, located about 50 minutes north of Birmingham in Bremen, AL. Even if you're just planning a day trip, we think Stony Lonesome is worth the trek. This off-road park in Alabama features over 1,450 acres of public land built exclusively for ATVs, rock crawlers, dirt bikes, lifted vehicles, and more. Whether you want to navigate rocks, mud, or hills, you'll find it all at Stony Lonesome. Thanks to their on-site cabins, RV sites, and tent campsites, you could easily spend a long weekend here for as little as $10 per night, depending on your choice of sleeping quarters.
Morris Mountain ORV Park
Morris Mountain ORV Park is another off-road park that requires a bit of a drive, located an hour and twenty minutes east in Delta, AL. Infamous among off-road parks in Alabama, the trails at Morris Mountain range from Level 1 to Level 5, with Levels 1 and 2 being ideal for beginners whose trucks are outfitted with basic lift kits, and Levels 3 to 5 being built for fully tricked out vehicles. Hop on the Sunday Drive trail for a simple Level 1 experience following an idyllic creek through the forest, or put your skills to the test on the Scenic Overlook, a Level 5 trail featuring rock gardens and ledges that will put you in a near-vertical position as you crawl your way up.
Share Your Favorite Off-Road Trails in Birmingham, AL with Edwards Chevrolet Co., Inc.!
Do you have some personal favorite off-road parks in Alabama of your own that you'd like to share? Don't hesitate to contact us and tell us more! We're always searching for new recommendations to tell our customers about when they get behind the wheel of a Chevy truck, and would love to hear from local off-road enthusiasts. Looking for somewhere to stay in Birmingham after your excursions? Check out some of our favorite campgrounds and RV sites in the area.
More from Edwards Chevrolet Co., Inc.
When it comes to vehicles, every driver will want something a little different to meet their unique driving needs. The shape, size, and capability of the ideal ride will all vary based on an individual's driving style, travel needs, and budgetary goals. There's no one-car-fits-all out there, but Chevy does an excellent job at creating…

There are many reasons to choose a used vehicle, including a desire to save money and to skip a lot of initial depreciation while getting the best value for a car. We also have many people come to us looking for a used Chevy for their teen drivers since a new model isn't necessary for…

When it comes to tough trucks, there's one automaker that firmly stands out from the rest, and that's Chevrolet. Since 1918, Chevy trucks have been proving themselves on the job site, the highway, the trails, and everywhere they've dared to travel, which means that no matter which year you choose, you're guaranteed to be impressed….