How to Lift Your Chevy Truck

If you've recently gotten behind the wheel of a Chevy Silverado 1500, 2500HD, or 3500HD, we're sure you've been having a great time putting its capabilities to the test on off-road trails near Gardendale. But if you've been feeling a little held back or unable to tackle certain obstacles with your truck's current ground clearance, you may be wondering how to lift your Chevy truck. Here at Edwards Chevrolet Downtown, we know all about custom lifted trucks, and we're happy to provide the information you need on different types of lifted Chevy trucks.
Benefits of Lifted Chevy Trucks
There are numerous reasons one might choose to lift their Chevy Silverado. For some Hoover drivers, the reasons are purely cosmetic. It's hard to ignore a lifted truck when you see one, as they're often sporting an eye-catching, rugged look – especially when paired with an oversized set of tires.
Most commonly, the intent behind custom lifted trucks is to gain access to superior off-road performance. While the Silverado's factory lift is certainly capable of traversing rocky roads less traveled, lifted Chevy trucks get greater ground clearance, better approach angles, and greater articulation and stability.
Types of Lifted Chevy Trucks
There are three main ways to lift your Chevy Silverado: leveling kits, body lifts, and suspension lifts. We explore the pros and cons of each option to help you determine which is best for your needs, below:
Leveling Kits
Pros

If you're looking for a more affordable way to lift your Chevy truck, a leveling kit is a great option to consider as most kits lean toward the inexpensive side.
Leveling kits are ideal for creating the necessary space to install an oversized set of off-road tires – up to 33 inches in most cases.
A leveling kit will only add about two inches of lift to the front end of your Silverado, so it won't have much of an effect on how you feel in the driver's seat.

Cons

Leveling kits can increase your fuel consumption. If your lifted Chevy truck is strictly going to be a weekend adventure vehicle, this doesn't pose as much of a problem.
Additionally, you may find that the cost of wheel alignments increases when you have a leveling kit installed.
Body Lifts
Body lifts are also on the more affordable side of the spectrum.
They typically are available as 2-inch or 3-inch lifts. Like with leveling kits, you shouldn't find it too difficult to adjust to the new height when you're behind the wheel and maneuvering around Bessemer.
Body lifts also create plenty of space for beefier tires. Again, you should be able to install up to a 33-inch tire if you wish.
The only con to body lifts is cosmetic. Once you've completed a body lift, you'll be able to see a visible gap at the rear wheels. Depending on your style, this may or may not be bothersome.
Suspension Lifts
Suspension lifts allow for the greatest amount of personalization to lifted Chevy trucks. You're essentially limitless when it comes time to decide on tire and wheel size.
Suspension lifts also provide greater suspension articulation.
This is the most expensive option among custom lifted trucks, so depending on your budget, there may be some waiting involved before you can move forward with your lift project.
Because suspension lifts provide the most significant lift to your Silverado, you may find it somewhat difficult to adjust to everyday driving, i.e. maneuvering tight corners, small parking lots, etc. (On the other hand, you'll always have a bird's eye view of traffic!)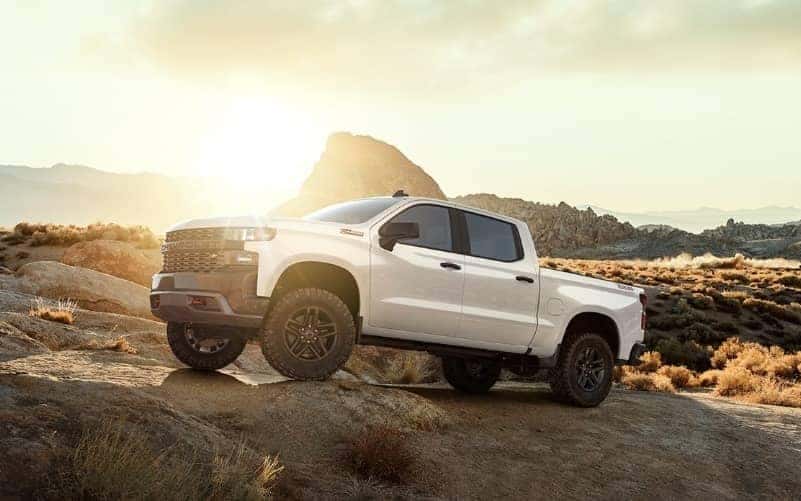 Find a Lifted Silverado for Sale at Edwards Chevrolet Downtown
If you don't already own a Silverado to lift on your own, you might be interested in checking out our lifted trucks for sale in Alabama. No matter what type of ground clearance and tire size you're looking for, you can find a pre-fitted option that suits your needs at our Birmingham showroom. Already have a truck you love? Lift kit installation is best left to the professionals. Talk with the expert technicians at our service center about scheduling an appointment today. If you're unsure what type of lift kit will meet your needs, they'll provide the trusted advice you need. Contact us or give us a call at (205) 716-3292 to get started!
More from Edwards Chevrolet Downtown