What is Chevy MyLink?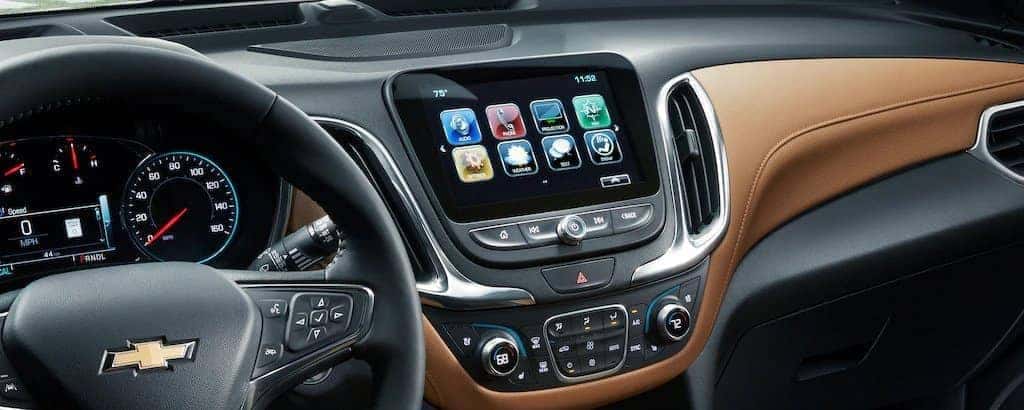 Chevy values your safety, so we created Chevy MyLink as a way to organize and integrate your tech to make your drive both connected and safe. With Chevy MyLink, you'll be able to get text alerts, recieve calls and more – without picking your cellphone up. You can keep your eyes where they belong – on the road – without missing important updates. Since it works with both Apple CarPlay and AndroidAuto, you're sure to be able to enjoy the great benefits that MyLink offers! Discover how Chevy MyLink can simplify your life in Gardendale today.
How Does Chevy MyLink Work?
MyLink is a feature that comes with either a 7- or 8-inch touchscreen. It connects your phone's features with your Chevy, so that talking, entertainment and navigation (if equipped) are within reach without reaching for your phone. MyLink also enables audio functions, so you can make important calls with voice commands, get text alerts and more.
What Can You Do With Chevy MyLink?
OnStar Voice Command
Audio: Control AM, FM and SiruisXM Satellite Radio.
Divice Pairing: Play music and answer calls hands-free
Navigation: Just touch the nav icon to turn on the map (if equipped)
Climate Controls: Keep cool or warm up by adjusting vehicle settings and seats (if equipped)
Weather: Know what to expect by displaying current weather and forecast information on your screen
SMS Text: Don't miss an update! Manage your texts without taking focus off of the road with optional text alerts.
Apple CarPlay Compatibility: Connect to Apple CarPlay to use your iPhone to get music, maps and hands free calls through the MyLink touchscreen!
Projection with Android Auto Compatibility: Set up Android Auto and use some apps from your Android phone, check out your playlists or listen to podcasts.
Rear Vision Camera: Use the large touchscreen to see the rear of your Chevy and turn off/on guidance lines or Rear Park Assist symbols (if equipped).
Additional Apps: Add additional in-vehicle apps and download them through the SHOP icon on the touchscreen.
Traffic: Don't be late! Get real-time traffic updates through various services, if equipped.
What Chevy Models Come with MyLink?
All of them! The entire lineup of Chevrolet models come with a version of Chevy MyLink. Explore the model you're interested in to see specific options and trim upgrades related to MyLink.
Teen Driver Technology in Chevy MyLink
Having your teen tackle the open road is a worrisome experience for every parent, but Chevy MyLink can help reduce that fear with smart technology integrations aimed at giving you the visibility you need to coach your teen driver's safe driving habits. Check out what the Teen Driver Technology does:
Buckle To Drive: Reminders you to buckle up before driving off. If they try to shift out of park without their buckle in place, the vehicle won't allow the driver to shift for 20 seconds, in addition to audio and visual alerts.
Audio Mute: Mutes audio until front-seat occupants are buckled and safe.
In-Vehicle Report Card: Shows you key safety info about your teen's driving so you can see how your driver is doing, and help them be safer.
Speed Warnings: Audible and visual warnings with the Chevy goes over a preselected speed.
Speed Limiter: When turned on, the vehicle won't be able to go over 85 mph.
Audio Limit: Help them keep their focus by setting a max volume on radio/stereo.
Experience the Benefits of MyLink at Edwards Chevrolet Co., Inc.
Find out how Chevy MyLink can change your driving experience with a visit to our Edwards Chevrolet Co., Inc. showroom. Whether you are looking to lease or buy, we have a large inventory to choose from and new vehicle specials <link to inventory page> being listed daily. Want to set up a test drive, or do you have additional questions like how to put pictures on Chevy MyLink? Contact us online or call us at today!
Learn More at Edwards Chevrolet Co., Inc.
When it comes to vehicles, every driver will want something a little different to meet their unique driving needs. The shape, size, and capability of the ideal ride will all vary based on an individual's driving style, travel needs, and budgetary goals. There's no one-car-fits-all out there, but Chevy does an excellent job at creating…

There are many reasons to choose a used vehicle, including a desire to save money and to skip a lot of initial depreciation while getting the best value for a car. We also have many people come to us looking for a used Chevy for their teen drivers since a new model isn't necessary for…

When it comes to tough trucks, there's one automaker that firmly stands out from the rest, and that's Chevrolet. Since 1918, Chevy trucks have been proving themselves on the job site, the highway, the trails, and everywhere they've dared to travel, which means that no matter which year you choose, you're guaranteed to be impressed….