Bessemer drivers love their Chevy pickup trucks. Some like the dependability and the good looks of the Colorado. Others like the hauling and towing power of the Silverado. We get both kinds of pickup enthusiasts at Edwards Chevrolet Downtown of Birmingham. If you love Chevy trucks like we do, but aren't sure which one is right for you, keep reading. We break down the differences between the Chevrolet Colorado vs. Chevrolet Silverado. Of course, our knowledgeable staff will be happy to answer any other questions you have to help you settle the 2020 Chevy Colorado vs. Silverado contest!
Chevrolet Colorado vs. Chevrolet Silverado – Performance
Chevy Silverado may be the better choice, with a maximum payload of 2,250 pounds vs. 1,578 pounds with the Colorado.
The main difference between the 2020 Chevy Colorado vs. Silverado is power. Do you need a pickup for towing or hauling? How big of a load do you need to haul? For truly heavy loads, the
There is also a significant difference in towing capacity. At 13,400 pounds vs. 7,700 pounds respectively, the Silverado can tow nearly twice as much as the Colorado. Both truck options offer advanced features as Chevy continues to push the envelope on innovation, as seen with the latest Malibu updates.
Chevrolet Colorado vs. Chevrolet Silverado – Economy
The manufacturer's suggested retail price of the Chevy Colorado comes in at $7,000 less than the Chevy Silverado. Fuel economy is another factor to take into consideration, especially if you drive a lot of highway miles around the Hoover area. While both models get an estimated 20 mpg in the city, the Colorado outperforms the Silverado on the highway with 30 mpg, compared to 26 mpg from the Silverado. So, if your hauling and towing needs aren't such that require the power of the Silverado, then the Chevy Colorado might just be the pickup truck for you.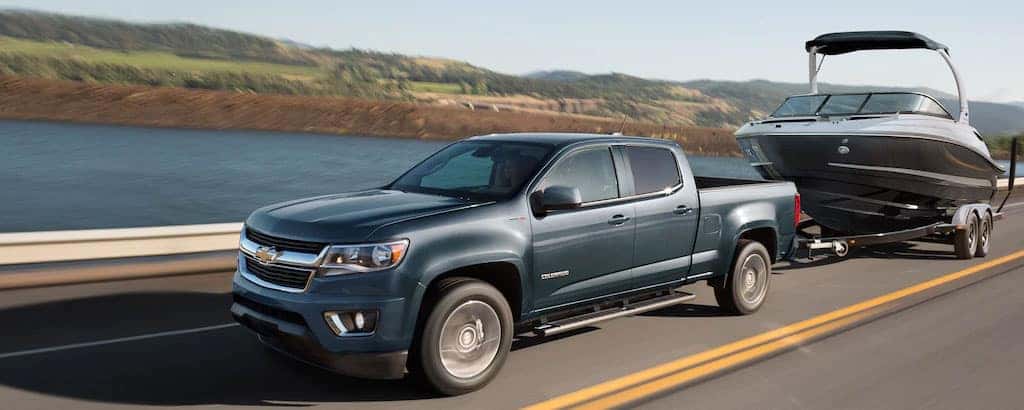 Test Drive Both Chevy Pickups at Edwards Chevrolet Downtown
If you're still trying to decide between the 2020 Chevy Colorado vs. Silverado, drop by Edwards Chevrolet Downtown and check them both out in person. While you're here, check out our new vehicle specials. You can also apply for financing or ask us about our lease options. We're conveniently located near Gardendale, so drop by or contact us. Considering a new SUV? Compare the Chevy Traverse vs. GMC Acadia today!