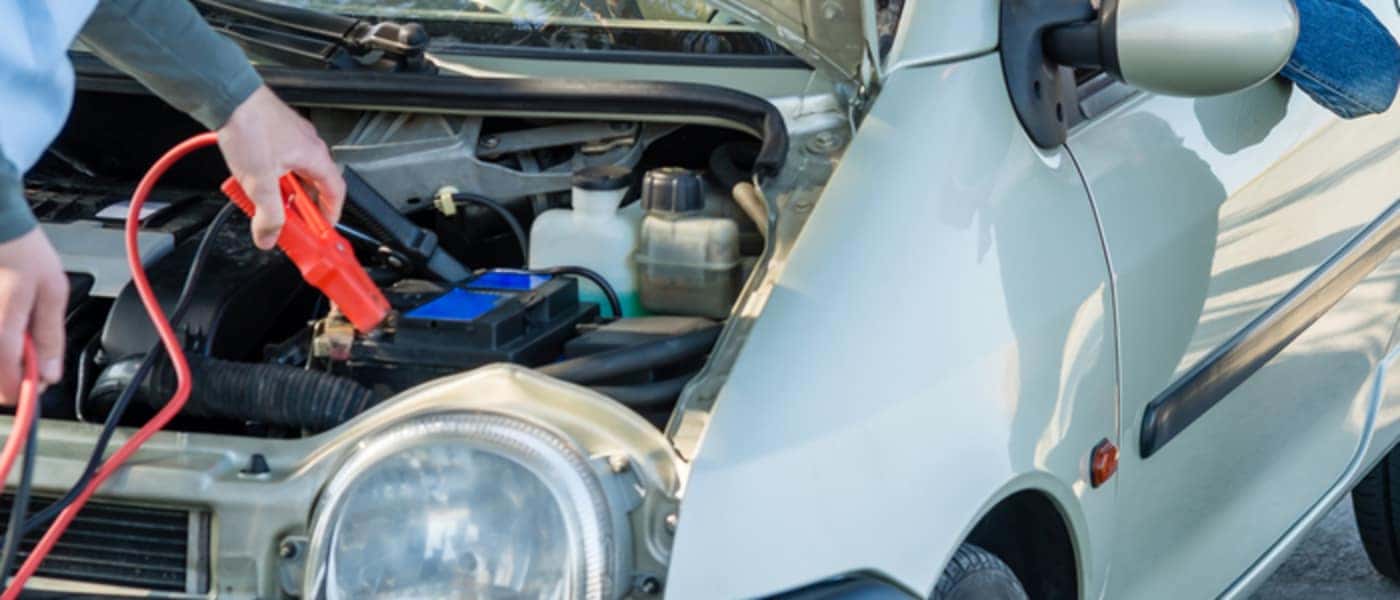 In the course of any Birmingham driver's life, fate conspires to kill our car battery. It's for these occasions, for our own sake and to help our neighbors, that it's good to know how to properly jump start a car. The service center at Edwards Chevrolet Co., Inc. covers how to jump start a car battery and what to do if a car won't jump start below.
The Proper Way to Jump Start a Car: Step-by-Step
Most Gardendale and Hoover drivers have the only tool necessary to jump start a car battery inside of their trunk: a set of jumper cables. Of course, you'll need another vehicle with an operating battery to get the job done. Here are step-by-step instructions:
Position Cars Face-to-Face: Pull the other car up so it's hood is directly facing yours. Turn both vehicles off.
Locate the Batteries and Terminals: You may have to remove a plastic hood to find a car battery, but this should be simple enough! You'll also need to spot the positive and negative terminals, labeled with a (+) and (-) sign. Make sure they're free of any corrosion.
It's Clamping Time: Connect the red clamp to the positive terminal on the dead battery. Then, hook the remaining red clamp to the positive terminal of the charged battery. Now, do the same with the negative terminals. If you have an extra clamp in your jumper cable set, connect it to an unpainted metal surface.
Start Your Engines!: Have the car with the working battery start it's engine, wait a couple of seconds, and then start the other engine. This should jump start your car battery!
Keep It Running: You need to give your dead battery time to recharge, so keep your engine on for at least 10 minutes or you'll risk it dying again.
If you don't have another car, you can always contact a jump start car service like AAA.
Car Won't Jump Start? Troubleshooting
Did you follow all the steps and still your car won't jump start? There are a number of reasons this could be happening, so let's cover them:
Time: There are occasions where it could take a few tries to get a dead battery going. Wait a few minutes after your first try and go for it again.
Starter: If you hear a clicking sound as you're trying to start the car, your starter could be experiencing problems. If this is the case, you should be able to schedule service at a Bessemer service center.
Electrical System: Car won't jump start but the lights are turning on? This could indicate a number of problems with the fuse, starter, ignition switch, or battery itself.This also requires the help of the experts at a service center or a parts center.
Get Car Service at Edwards Chevrolet Co., Inc.!
At Edwards Chevrolet Co., Inc., the experts at our service center are prepared to help with virtually any car issues you might be facing. We also want Birmingham drivers to feel empowered to take care of their vehicles, which is why we offer numerous service tips for our community! Contact us today to get expert car service.